Eventful couple of days! I know, shock horror. Well, I say eventful, but what I really mean is stuff happened. First of all, my signed postcard from David Tennant arrived after three and a half months of daily posybox watching.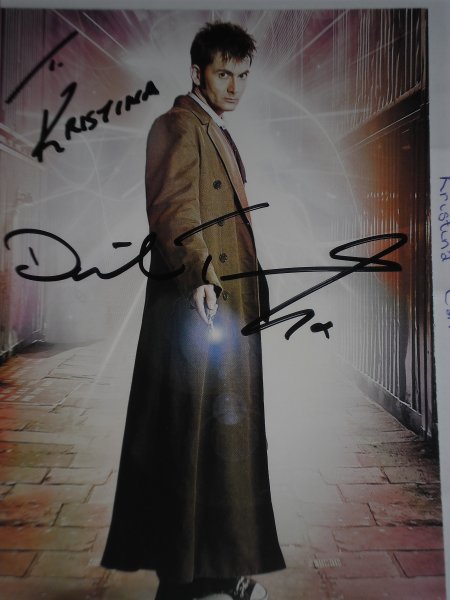 It's so shiny, I love it. Well worth the wait.
Yesterday I went into work to start getting my cleaning done for next week. Seriously, we're supposed to do two hours apart from in the summer holidays where we do a special clean, putting in an extra 20 hours. I was there for 4 hours and had barely made any progress. And I broke the George wet vacuum... oops. The wet head cracked in half...
Then last night, my money from Opinion Bar finally cleared, so I combined it with my My Survey voucher for Amazon and bought myself Mad Dogs Series 1 & 2 boxset, and used the rest of the money left over to get a year's worth of extra userpics for my Campbell journal.
The day went majorly downhill after that, I was sat in bed on the laptop as usual when my nose started to bleed. Now, I'm so stranger to nosebleeds, I have one every few months. But usually they're from one nostril and stop within 5-10 minutes. Last night, I was bleeding for a good 30 minutes, maybe more, and it was from both nostrils. I had to shout for my mum because it was so bad. Normally I deal with them myself because she isn't so good at handling the clotted blood. Our sink looked like someone had dumped a packet of raw liver in it. She called 111 just because it was so thick and had been bleeding so long. The lady advised going to A&E and said if I didn't go and it started again to call 999 straight away. I didn't fancy spending a night waiting around at the hospital so I just washed up and went to bed with a cup of tea.
Mum made me go to the doctor's this morning though. He checked my blood pressure which was raised slightly. He said he didn't want to treat based on one reading though, so I have to go back in a month to have it checked again. He also said my nasal septum was rather red and inflammed so gave me some cream I've had before to calm the inflammation. Must be worse than before though since last time I had to use it once before bed and this time I have to use it four times a day.
Once I got home, I had a bite to eat then headed back to work. Another 3 and a half hours and it's about done. What's not done now will be left until Monday night when we go back properly.
So yes, that was my eventfulness. Right, back to my replay of FFX now. Much fangirling of Auron is needed! Oh how I miss my icons!